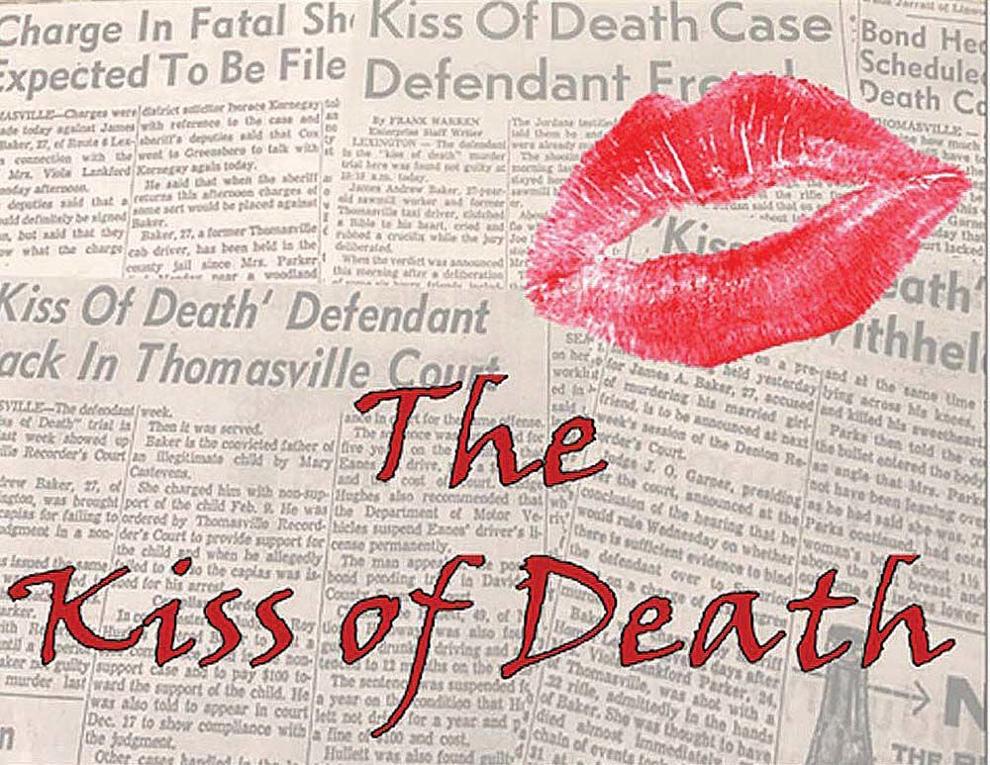 THOMASVILLE – It ended with a kiss.
The newspapers from 60-plus years ago don't tell us much about the complicated relationship between James Andrew Baker and his lover, Viola Lankford Parker, but we know it ended with a kiss.
Well, a kiss and a shotgun blast through the heart — that's why the young couple's tragic love story was in the papers to begin with. But how did it happen? And why?
The year was 1959, and Baker and Parker had been living together as man and wife in rural Davidson County, though they weren't actually married. Baker, a 27-year-old sawmill worker and former Thomasville taxi driver, was estranged from his wife, who had left him and was seeking a divorce. He had an illegitimate son with another woman.
Parker, Baker's 24-year-old paramour, who was also from Thomasville, had left her husband, who happened to be more than 30 years her senior. Furthermore, Parker was the mother of a young son — from a previous marriage, before she became a Parker.
Hey, we told you it was complicated.
The affair came to its bloody end on Aug. 31, 1959, a rainy Monday when Baker skipped work because of the weather. Instead, he and his sweetheart went frog-hunting at a woodland pond a few miles north of Denton, taking along a .22-caliber rifle Baker had borrowed from an acquaintance.
Unfortunately, the frogs wouldn't be the only victims that day. Shortly after 12:30 that afternoon, Viola Parker died when a bullet from that .22 rifle pierced her heart, and Baker was left holding the smoking gun.
So what happened? Had Baker murdered his young lover, or was this a tragic accident? Well, that depends on whose version of the story you believe.
For his part, a highly distraught Baker told sheriff's deputies an admittedly dubious story that went something like this:
He and his girlfriend had gone frog-hunting that morning around 10. When they took a break, Baker sat down on a tree stump and had the rifle lying across his knees. Parker sat against a tree about three feet away. We don't know if they were conversing or sitting quietly.
After a few minutes, when a hawk flew overhead and perched in a nearby tree, Baker reached for the rifle to try and shoot it. At that very moment, Parker leaned over to kiss her boyfriend, unaware that he was reaching for the gun. Just as she wrapped her arms around Baker to kiss him, the rifle accidentally discharged, firing a bullet into her chest and straight through her heart. She weakly spoke her boyfriend's name, then collapsed and died.
Baker, horrified by what he'd done, tried to carry the young woman out of the woods to the house where they'd been living with a relative — about half a mile away — but he couldn't make it more than a few yards. So he placed Parker's body back on the ground, ran to the house, and drove frantically to Denton to report what had happened. Denton police, in turn, called the Davidson's County Sheriff's Department, and deputies met Baker back at the house, where he led them to the scene and repeated his story.
"I loved her, and I didn't mean to do it, but I shot her," Baker tearfully confessed to the deputies.
As you can imagine, Baker's juicy tale titillated the press with its sordid details of illicit love, an errant gunshot — or was it? — and that final fateful kiss. Newspapers across the state couldn't resist referring to the case as the "kiss of death" slaying.
As suspicious as Baker's story sounded, it was little surprise when he was locked up in the Lexington Jail, charged with first-degree murder. Despite his tears, neither the Davidson County sheriff nor the district attorney had believed him.
But the question was, would a jury?
The irony probably was not lost on James Andrew Baker.
Newspapers obviously called his girlfriend's death the "kiss of death" slaying because, according to Baker, the rifle he was holding accidentally discharged and killed his lover, Viola Lankford Parker, as she leaned over to kiss him.
But the case could've meant death for Baker, too, who was charged with first-degree murder. If convicted, he could've faced the death penalty.
More than 60 years after the sensational 1959 case, it's not clear why Baker was charged with first-degree murder. At the time, deputies said "certain circumstances not revealed to the press had led to his indictment," but they refused to say what those circumstances were.
By the time the case went to trial — in mid-November, about 2½ months after the Aug. 31 shooting death — the charge had been reduced to second-degree murder, apparently because there was no evidence of premeditation.
That was obviously good news for Baker, but there was bad news, too — the trial was not going well.
For starters, a deputy's testimony did not jibe with Baker's story of what happened the morning he and Parker had gone frog-hunting. According to the defendant, he was sitting on a tree stump beside his lover, holding a .22-caliber rifle across his knees, and the gun accidentally fired when Parker leaned over to kiss him.
According to the deputy, though, the slug entered Parker's body about 1½ inches above her left breast and came out some 4½ inches lower than that — a virtually impossible trajectory if things actually happened as Baker said they did.
In another discrepancy, the deputy pointed out that when he met Baker at the scene of the shooting, next to a woodland pond in Davidson County, Baker showed him how he'd been holding the rifle when it discharged. In court, though, Baker testified he hadn't had his hands on the gun at all — that it had mysteriously fired on its own.
But guns don't fire by themselves, do they? Did Baker really think the jury would buy that?
Maybe, maybe not. But the defense presented two other witnesses — including Joe Bailey, the rifle's owner, who had loaned it to Baker for his frog-hunting excursion — who testified that the weapon had fired when they didn't have their hands on the trigger. Bailey said the rifle fired on its own one time when he was running through the woods chasing a squirrel.
The incredulous prosecutor, Horace Kornegay, mocked such a preposterous theory, and even staged a dramatic courtroom demonstration to show that guns don't just randomly discharge without someone pulling the trigger.
"He beat (the rifle) barrel-first on the floor of the courtroom in an effort to get it to fire. It did not," the local newspaper reported. "On a second occasion, he slammed it to the floor butt-first, and still it did not fire."
The charismatic prosecutor also mocked Baker for showing up to court with a Bible in his hand and a gaudy 3-inch crucifix around his neck.
"Jailhouse religion," Kornegay scoffed, suggesting the defendant was treating the crucifix "like a rabbit's foot." If Baker was such a godly man, he argued, how is it that he fathered an illegitimate child while he was married? And why did he have illicit affairs with several other women?
Nonetheless, as the jury deliberated his fate, Baker clutched the Bible to his heart, nervously rubbed the crucifix and even shed tears in the courtroom.
After three hours of deliberation, the jury returned with a somewhat surprising verdict — not guilty.
A relieved Baker, who said he had hoped to marry Parker once their divorces were both final, referenced his so-called "jailhouse religion" after the acquittal.
"God was with me, and I'll see Viola in days to come," he told the court. "...This is something I'll never be able to get off my mind. I would have been glad to change places with (Viola) at any time."
It was a bittersweet moment for the young man. His lover's fate had been sealed with a kiss, but not his own.