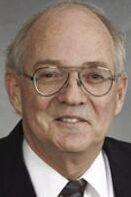 DAVIDSON COUNTY — Retired Republican state senator Stan Bingham, a plain-speaking politician who spent 16 years in the N.C. General Assembly and had a long career in Davidson County politics, died at the age of 76.
Bingham, who served four years on the Davidson County Board of Commissioners prior to joining the legislature, first was elected to the Senate in 2000 and served through his retirement from the seat in 2016. Friends tell The High Point Enterprise that he died overnight Wednesday or early Thursday morning at his home in Denton in the southern part of the county.
Gov. Roy Cooper praised Bingham for his long career of service.
"Senator Bingham was a hard-working and thoughtful public servant who diligently represented the people of his district in addition to all of his other community efforts to improve the lives of others," Cooper said in a statement to The Enterprise.
Cooper ordered all U.S. and North Carolina flags at state facilities to half-staff until sunset Friday to honor Bingham.
Sen. Steve Jarvis, R-Davidson, and Rep. Sam Watford, R-Davidson, attended an event with Bingham Wednesday night. Jarvis said he was stunned when he found out Thursday that Bingham had died.
"He was joking and talking Wednesday night, the Stan Bingham that everyone knew and liked," said Jarvis, who serves in the Senate seat that Bingham held previously.
Jarvis said that Bingham was devoted to serving constituents and respected by legislators on both sides of the aisle at the State Legislative Building in Raleigh.
Jarvis, who had been friends with Bingham for more than 10 years, said Bingham let people know clearly where he stood on issues.
"If he felt very passionate about an issue, he didn't have a problem standing up for it," Jarvis said. "He had a soft heart and would take the time and do anything for anybody if they were in need."
Watford, who was friends with Bingham for 40 years, said Bingham was an accomplished businessman in addition to an effective politician.
"Just about anything positive you could say about anybody you could say about Stan Bingham," Watford said. "He was always a help to me politically and socially."
Bingham prided himself on being a conservative politician but reached out to form bridges with Democrats.
When Bingham first was elected to the Senate, Democrats controlled the chamber. Bingham developed a friendship with now-retired Democratic senator Ellie Kinnaird, one of the most liberal state senators at the time from Carrboro near Chapel Hill.
Bingham told The Enterprise in an interview 15 years ago that he and Kinnaird disagreed on many issues but worked together on legislation where they had common ground. Kinnaird also helped Bingham with local legislation for Davidson County and his Senate district.