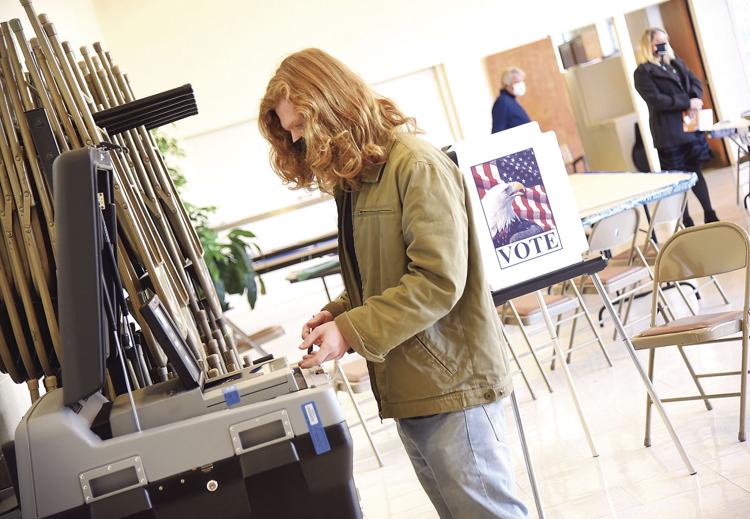 HIGH POINT — So much attention, for understandable reasons, focused on the possible impact of still-to-be counted ballots in North Carolina on the race for the White House.
After Saturday's monumental political development, that's no longer the case.
Democratic President-elect Joe Biden secured the White House when he won the swing states of Pennsylvania and Nevada against Republican President Donald Trump. That means the resolution of outstanding ballots later this week in North Carolina won't help determine the outcome.
But the reverberations from determining the choices on the outstanding ballots could help settle the state's marquee U.S. Senate race and even reach down to determine close local races in Guilford County.
County election boards will hold their general election vote canvass on Friday, an occasion that's usually a little-noticed formality but will be far from that now.
Late last week, the N.C. State Board of Elections indicated that there were more than 116,000 outstanding mail-in absentee ballots and nearly 41,000 provisional ballots. The provisional ballots refer to ones where there's a discrepancy or question about the voter's residence or registration.
The canvass in the state's 100 counties will illuminate the votes of mailed-in absentee ballots that arrive between Nov. 4 — the day after Election Day — and this Thursday. The outstanding absentee ballots will determine the winner of the Senate contest between GOP Sen. Thom Tillis and Democratic challenger Cal Cunningham. Tillis has a narrow lead in the contest that will help determine which party controls the Senate for at least the next two years.
The canvass could tilt the balance of races closer to home for local voters. There are three contests in Guilford County — one for the board of commissioners and the other two for school board — where the margin between the candidates is less than 1%.
Democratic challenger Mary Beth Murphy leads Republican District 4 Commissioner Alan Branson by 18 votes out of a little more than 43,000 votes cast. With all precincts reporting unofficial returns, Murphy has 21,521 votes, or 50.02%, to Branson's 21,503, or 49.98%. The district covers eastern Guilford County.
In the District 3 school board race, Republican incumbent Pat Tillman holds an 88-vote lead over Democratic challenger Blake Odum with nearly 37,000 votes cast. Tillman has 18,407 votes, or 51.12%, to Odum's 18,319, or 49.88%. The district covers parts of Greensboro and northwestern Guilford County.
In the other contested school board race, unaffiliated candidate Deborah Napper holds a 187-vote lead over Republican Michelle Bardsley with nearly 36,000 votes cast. Napper has 18,048 votes, or 50.26%, to Bardsley's 17,861, or 49.74%. The district covers parts of Greensboro and northern Guilford County.
The canvass across 100 counties also could impact two close statewide races in which one candidate in each contest has ties to the area.
In the race for chief justice of the N.C. Supreme Court, Republican Associate Justice Paul Newby leads by less than 1% over Democratic incumbent Cheri Beasley. Newby grew up in Jamestown.
As of this weekend, Newby had 2,672,253 votes, or 50.02%, to Beasley's 2,669,607 votes, or 49.98%
In the contest for state attorney general, Democratic incumbent Josh Stein leads by a similar slim margin over Republican challenger Jim O'Neill, the district attorney of Forsyth County. Stein has 2,687,433 votes, or 50.11%, to 2,675,630 votes for O'Neill, or 49.89%
The impact of the crush of absentee ballots could be more pronounced in local races compared to previous elections.
Usually only a handful of mailed-in absentee ballots add to vote totals in a district race within a county. But that should be different this time because of the record amount of mailed-in absentee ballots amid the coronavirus pandemic.
"It depends on the number of ballots that are actually coming in," said Martin Kifer, chairman of the Political Science Department at High Point University.
How the voters in Guilford County with outstanding absentee ballots are distributed by residence will play a large part on the impact on local close races, Kifer told The High Point Enterprise.
"Then you have to account for the distribution of political party affiliation within those ballots," he said.
pjohnson@hpenews.com | 336-888-3528 | @HPEpaul