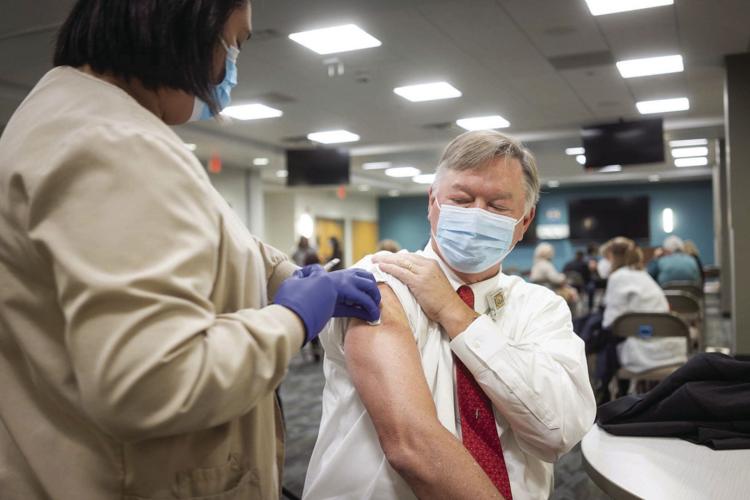 HIGH POINT — Wake Forest Baptist Health High Point Medical Center faces a critical point from rising COVID-19 cases, the hospital president said.
The hospital has recorded significant increases in COVID-19 patients since Thanksgiving and is having to take innovative approaches to staffing, and working with other medical centers to find beds when needed, Dr. James Hoekstra said.
"We are trying to send the message to our patients and to our community that this is pretty serious," he told The High Point Enterprise on Tuesday afternoon. "We are pushing the limits on what we can take care of. We need to be much more committed to masking, social distancing. We need to take this COVID pandemic surge seriously."
High Point Medical Center's situation reflects the strain of the coronavirus pandemic on medical centers across the state and nation.
For the first eight months of the pandemic, Hoekstra said, "we did a really good job of flattening the curve so we wouldn't have a big spike in cases and overload the hospital."
But around the Thanksgiving holiday, Wake Forest Baptist and public health advocates noted a significant rise in COVID-19 cases in the community, which translated into more patients at the hospital.
"Those numbers have increased significantly in the last month and a half to two months," Hoekstra said. "We've moved patients around the system to try to find any bed that happens to be available. Our bed situation is extremely tight."
Hoekstra did not release details on how many COVID-19 patients the hospital has, but the U.S. Department of Health and Human Services reports each week's seven-day average of overall patients at medical centers as well as providing some breakdowns, including the number of COVID-19 patients.
Each week from late October to Nov. 19, the average number of confirmed COVID-19 patients at High Point Medical Center ranged from 14 to 15.4. The week of Nov. 20-26, the number jumped to 24 a day. It has risen every week since then and last week stood at an average of 50.9 a day.
The largest jump came two weeks after Thanksgiving, going from an average of 32.6 a day the week of Dec. 4-10 to 41.4 a day the week of Dec. 11-17.
The strains on High Point Medical Center mean that some patients are experiencing longer waits than hospital administrators would prefer, Hoekstra told The Enterprise.
"There's no doubt right now that our emergency departments are stretched," he said. "But we are doing like we do always — if you are sick, we will take care of you."
Hoekstra said he sees some reasons for optimism as the new year emerges. The spike in cases related to transmissions at Christmas and New Year's gatherings should peak later this month or in early February, then new cases could decline if a significant number of people heed precautions about wearing masks and social distancing, Hoekstra said.
The rollout of vaccines will make a difference over time. Wake Forest Baptist medical practices locally are starting to call in patients 75 years and older eligible for the vaccine to arrange for inoculations, as doses are available, Hoekstra said.
County health departments also are administering vaccinations but face a demand that has overwhelmed the systems set up to make appointments.
The first part of this year represents a critical period for the direction of the pandemic, Hoekstra said.
"You've got a couple more months to go now to get through this," he said. "We need to stick with the program in terms of what you are doing with social distancing and masking."
pjohnson@hpenews.com | 336-888-3528 | @HPEpaul