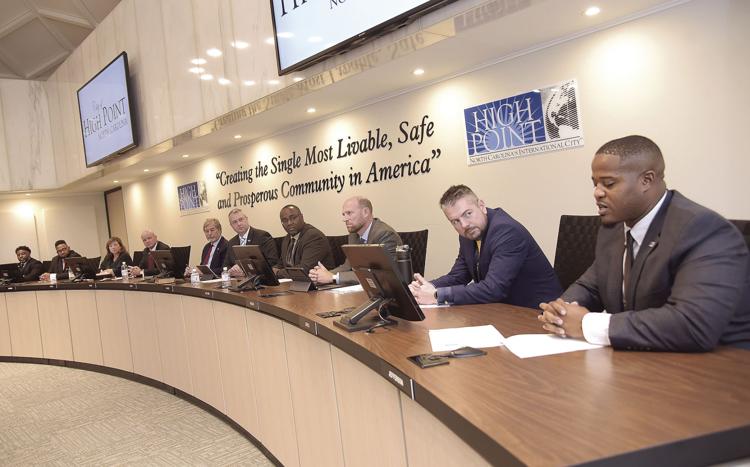 No. 8 of the top 10 stories of 2020.
HIGH POINT — Just a few months into its tenure, the new High Point City Council's grand plans ran up against the coronavirus pandemic.
After taking office in December 2019, the council set several ambitious goals for the coming year, including:
• The recruitment of 50 new office jobs and five new investors for the catalyst project area around Truist Point stadium.
• Designing a marketing campaign focused on diverse groups, events and quality of life.
• Selecting a target neighborhood and coordinating with necessary city departments to implement a holistic strategy to address systemic problems such as violence and poverty.
None of these goals have been met, in large measure due to the pandemic, which took hold in March.
For instance, the city started its annual budget process last spring projecting a $7.2 million general fund shortfall due to the economic shutdown in the early months of the pandemic.
That put a damper on new initiatives under consideration, as the council instead had to weigh a series of budget cuts.
The pandemic also torpedoed the prospects of landing more office jobs downtown anytime soon, as companies continue to have their employees work from home.
The council did enact a new incentives policy over the summer to try to facilitate more office projects in the downtown area.
The council, which includes four Black members for the first time in the city's history, has made initiatives involving diversity and inclusion a priority.
These include creation of a new city position for a diversity, equity and inclusion officer. The job has been budgeted and advertised, but has not been filled.
The job description states the position will be part of the Communications and Public Engagement Department and will work toward city diversity, equity and inclusion goals for hiring.
Other duties will include developing educational and training programs to facilitate diversity, inclusion and collaboration among city employees.
The council also directed the city manager to institute mandatory diversity training for all supervisory employees, policies for more robust recruitment of underrepresented candidates for job openings and contract opportunities and a leadership training program to help employees with opportunities for advancement.
The council also launched a review of the city's Minority Women Business Enterprise purchasing policy as part of an effort to develop strategies to encourage more minority and women-owned firms to be competitive in doing business with the city.
The city has long had a goal of 10% minority participation in construction projects valued at $500,000 or more, but the actual participation rate is around 8.7%.
And there isn't much of this work to go around because most contracts the city awards involve smaller projects, such as street and utility work, that don't have MWBE participation goals.
The council has had several briefings from city staff on the subject, but has not taken any public votes on the matter.
One possible measure that's been discussed is the creation of a MWBE coordinator position in the city.
pkimbrough@hpenews.com | 336-888-3531