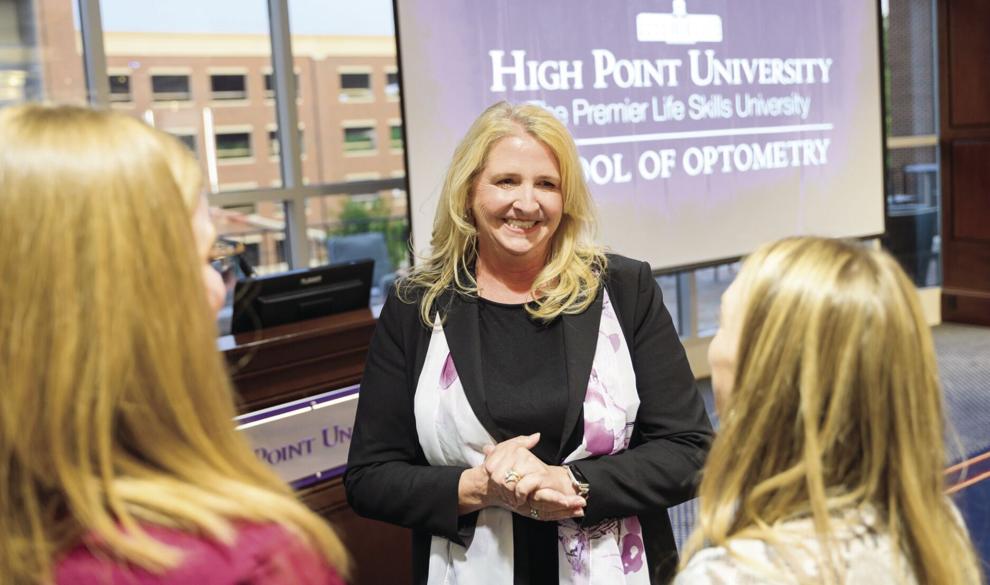 HIGH POINT — The founding dean of High Point University's new school of optometry wants to change how the field is taught.
The curriculum will be structured much differently than any other school's, Dr. Catherine Heyman said. The modular structure will allow students to spend a semester focused on one area of related subjects so students can better integrate the material.
"It's more like medical school or physician assistants," she said.
She has wanted to be able to change the traditional curriculum structure because of consistent feedback she has heard from students during her tenure at Marshall B. Ketchum University's Southern California College of Optometry, where she is completing the current semester before moving to High Point. Students in the graduate program told her they felt pulled in multiple directions and unable to understand some of the material until their third year.
In another major change from the way doctor of optometry programs normally operate, HPU's will introduce the students to clinical work in their first year instead of their third, Heyman said. They will work in the Lane Student Center under an optometrist's supervision.
As they gain experience, they'll get further training in clinics around the High Point area, and by their third year "they'll be pretty much in-clinic full-time," she said.
By the time students complete the final year, the different curriculum approach and the greater clinical training should translate to a high passing rate on the licensing exam, she said.
Heyman also plans a "2+4 program," which would allow HPU students to apply at the start of their junior year for admittance to the four-year optometry graduate program. The first two years of optometry graduate coursework then would count toward completion of their bachelor's degree as well as toward their doctor of optometry degree.
Heyman's plan to reshape her field of education has echoes of what the founding dean of HPU's dental school said a year ago. Dr. Scott De Rossi, who came to HPU after serving as dean of the dental program at the University of North Carolina at Chapel Hill, said he wants to establish a model that changes the way that oral health care schools approach teaching and training of dentists. And like Heyman's plan, it includes an earlier and more extensive approach to clinical training.
Both schools are expected to accept their first cohort of students in 2024.
HPU President Nido Qubein, who often speaks admiringly of people who have found success challenging traditional practices, said Tuesday night at an event introducing Heyman to a group of local optometrists and others that Heyman understands HPU's drive to "be extraordinary."
"We want it (the optometry school) to be the best of the best," he said. "We know she'll take us to new levels of excellence."
Heyman said that HPU's ambitions and "transformative growth" the past 15 years are among the things that drew her to the university.
"I like constantly moving forward," she said.