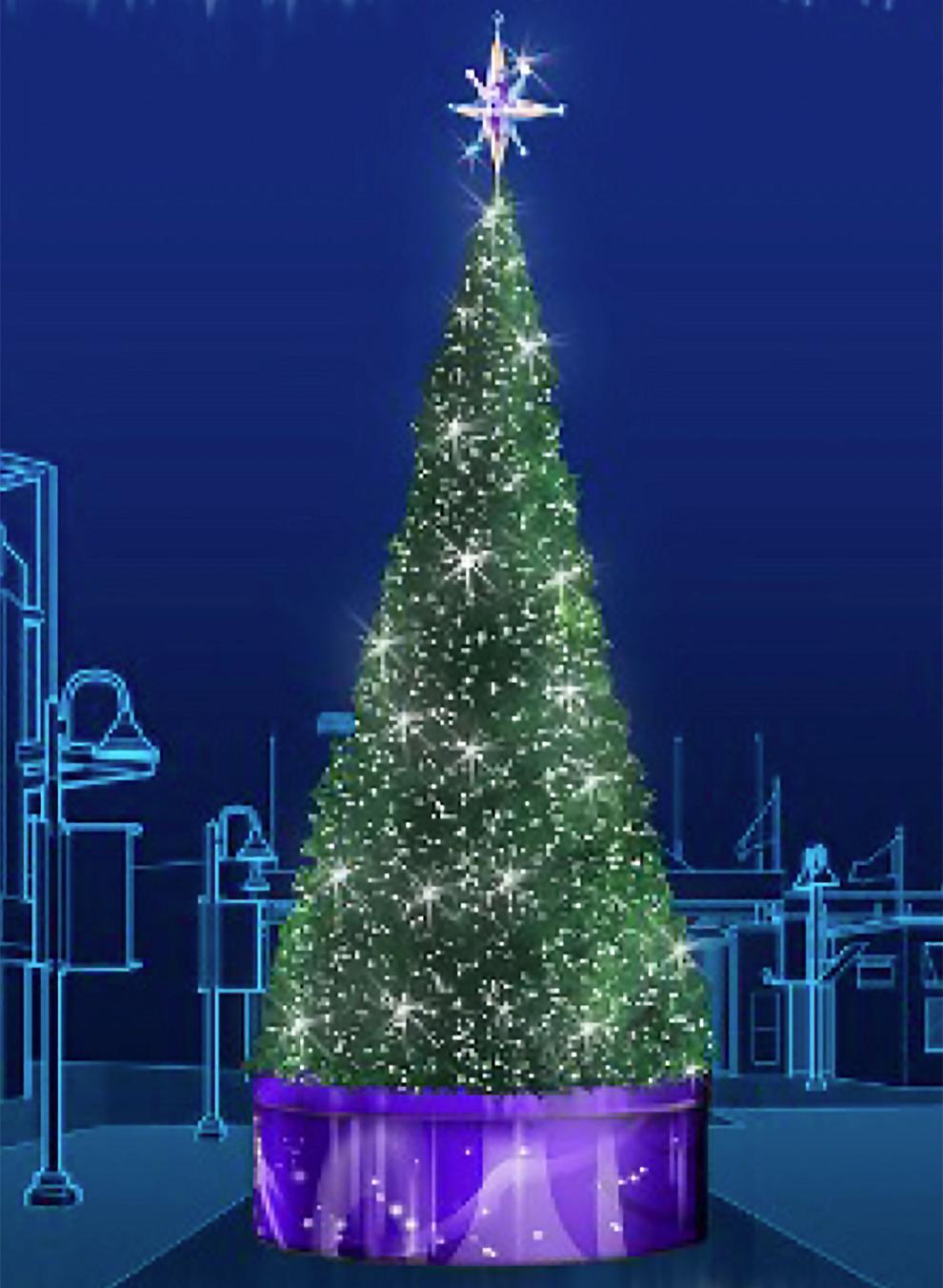 HIGH POINT — Signs of the approaching holidays will be more visible in a big way starting Thursday as a new 44-foot-tall Christmas tree will be constructed in the courtyard near Truist Point, the Furnitureland Rotary Club announced.
Slightly taller than the three-story Food Hall, the Christmas tree is expected to be one of the largest in the Triad, Furnitureland Rotary Club President Joe Hellinger said.
"Not only will it be a shining star for visitors to downtown High Point, you can see it from the hospital," Hellinger said. "You can see it from Main Street."
The tree, a gift to the city to help celebrate the club's 50th anniversary, will shine each November through the Christmas season at Truist Point, although where it will be erected will be subject to ongoing construction around the stadium.
"The idea is to have a central gathering point to celebrate the holidays, bring the community together and be a focal point for High Point during the holiday season," Hellinger said. "We were looking for a 50th anniversary gift to do something special for the community."
The inaugural tree-lighting ceremony on Saturday, Nov. 20, from 5-6:30 p.m. will be the centerpiece of a High Point Holiday Party. Presented by Bethany Medical, the High Point Holiday Party also will include a Holiday Craft Fair at Truist Point from 3-7 p.m. and a trolley hop from noon to 10 p.m. to support local retailers, restaurants and bars.
"Our goal from day one was to create a free event, which all ages and demographics can enjoy and be excited about," Hellinger said. "Thanks to the support of our sponsors we have exceeded all of our goals so far. The proceeds of the party will enable Furnitureland Rotary to donate a significant amount of money to local High Point charities."
Furnitureland Rotary's primary beneficiary is Mobile Meals of High Point.
High Point University and HPU President Nido Qubein sponsored the Christmas tree, which is expected to add life to Truist Point during the holiday season while complementing other development activities.
Charter club member Coy Williard described the announcement as the single most important in Furnitureland Rotary Club's history.
"We have supported events in the past, but with the involvement of Dr. Qubein, one of our past presidents, we are able to give a significant gift to the citizens of High Point," Williard said.
HPU sponsored the tree as part of its community efforts, Qubein said.
"This is just one of the many organizations the university supports to continue the growth of our vibrant city," Qubein said.
cingram@hpenews.com | 336-888-3534 | @HPEcinde