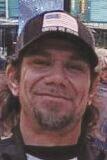 ARCHDALE — An investigation is underway into the death of a 41-year-old Archdale man at a commercial construction work site in Greensboro late last month.
Aaron Billy Hurtado died Feb. 25 while working on the fourth floor of a building under renovation along Green Valley Road near the Friendly Center shopping complex. A 911 emergency call from the day of the fatality indicates that Hurtado fell 10 feet.
His older brother, Amos Hurtado of Archdale, said that his brother was dead at the scene of the accident.
"All I know is that he was cutting concrete and they were trying to pry a piece away," he told The High Point Enterprise.
Workers on site "heard a snap," and his brother fell, Hurtado said.
A public information officer with the N.C. Department of Labor's Occupational Safety and Health Division said the agency has opened an inspection into the incident.
"As it is an open investigation, that is all the information we can provide at this time," said agency spokeswoman Erin Wilson.
Hurtado worked for Ace Avant of Archdale. Company President Michael Somero said Tuesday that the company will work with investigative authorities.
"We want to ensure it does not happen again," Somero said. "We were shocked and extremely saddened by the tragic loss of one of our employees, Aaron Hurtado, while he was working on renovating an office building in Greensboro. Aaron was a consistent and valuable part of the Ace Avant family for many years, and we will never forget the positive impact he had on us."
Another Ace Avant employee was injured in the accident, and was released after being treated at an area hospital, Somero said.
A recording of the 911 call by a man at the work site starts with the man urgently telling the emergency dispatcher that an ambulance is needed at the construction site in the old SunTrust building.
When the dispatcher asked how far Hurtado fell, the man said, "I believe it's 10 feet."
The man said Hurtado was bleeding and had a head injury.
The emergency dispatcher told the man to use a clean, dry towel or cloth to keep pressure on the bleeding wound and stem as much of it as possible.
The call, which covered a little over seven minutes, ended as paramedics arrived.
Amos Hurtado said his family hopes that the investigation will provide clarity and details on what happened.
"I know my brother was always very big on safety," Hurtado said.
Amos Hurtado described his brother as a "go-getter" who people knew "was in the room" because of his engaging presence. His relatives are devastated by the tragedy.
Aaron Hurtado, who worked in construction most of his life, moved from Florida to Archdale seven years ago to join relatives here. The Hurtado family members live side by side in an Archdale neighborhood.
On the afternoon his brother died, Hurtado said, he and his relatives were wondering what was taking Aaron so long to arrive home.
"At 6:30 p.m., three hours after it happened, company trucks pulled into the driveway," Hurtado said. "I knew it was bad. As soon as they got out of their vehicles I was hoping my brother would get out, and he didn't. All I could say was, 'Where's my brother?' "