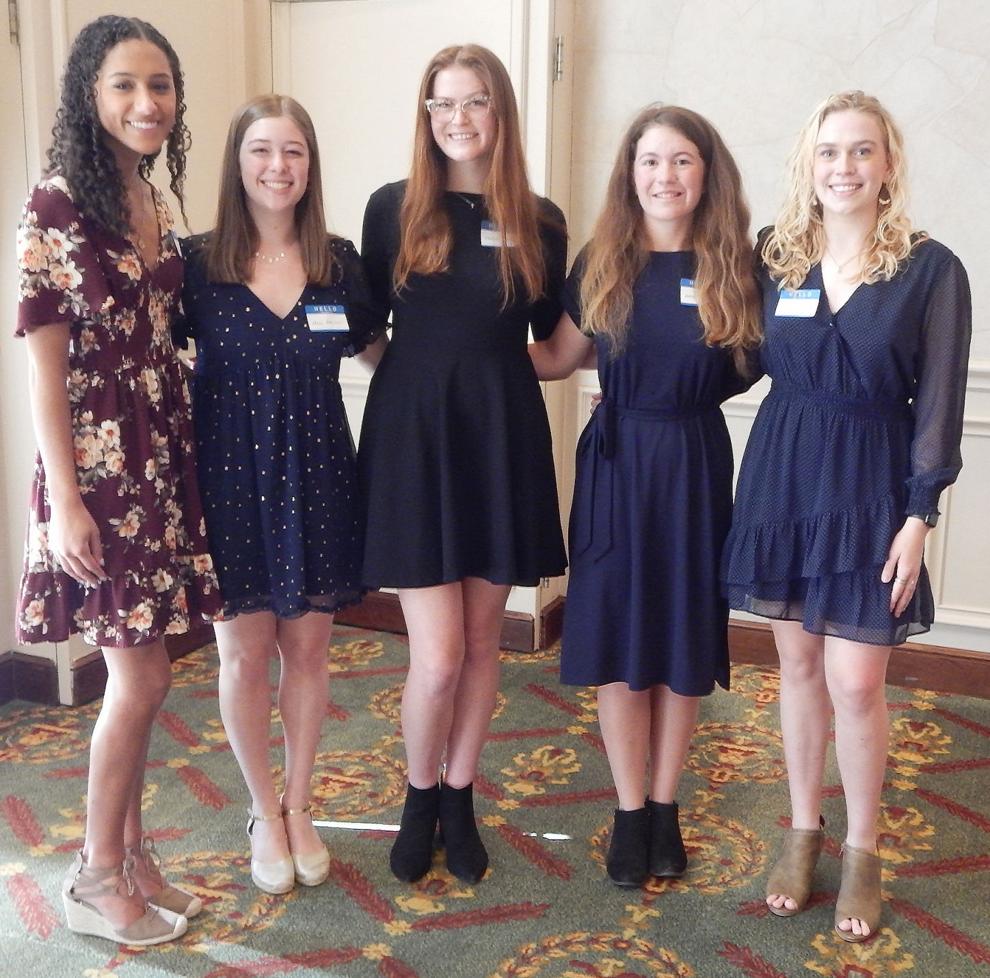 HIGH POINT — Local high school seniors who wrote award-winning essays about how good citizens help the country were recognized Tuesday by the Alexander Martin Chapter of Daughters of the American Revolution, based in High Point.
The award-winning students who were present were Sidney Briggs of Westchester Country Day School; Claire Atkinson of Wesleyan Christian Academy; Mylee Quattlebaum of High Point Christian Academy; Hannah Covey of Penn-Griffin School for the Arts and Lauren Rhodes of High Point Central. Absent was Zaylah Majett of Ledford High School.
This year's essay question was "How do the qualities of a good citizen (dependability, service, leadership and patriotism) help support our nation?"
The essays ranged from historical views of the country's first settlers to today's struggles.
Briggs said she watched in horror on Jan. 6 when rioters stormed the Capitol building, with some chanting threats, although they may have thought of themselves as good citizens. Good citizens actually are peaceful, kind and seek the truth, Briggs said. A good citizen would seek out facts, not spread misinformation, get a vaccine and wear a mask to show service to others, Brigg said.
"With the deadly pandemic, attacks on voting rights, rampant gun violence, flooding misinformation, burning woods, anti-Asian hate, loss of women's rights and systemic racism, someone needs to step up to turn this dark into light, to turn this anger into love," Briggs said. "Simple actions help in this hard time. To show patriotism, act for the good of the country."
The daughter of Laurie and Dan Briggs will represent the DAR chapter at the district level, according to Beth Tuttle, who co-chairs the Good Citizens Awards with Emilie Rogers.
Briggs said that after graduation, she plans to attend college and major in international relations, human rights, journalism and Mandarin.
Rhodes, the first student to speak to DAR members, began her essay with more of a historic view.
"Our nation was first born out of a people who understood the meaning of hard work," Rhodes said. "They knew that in order to create the nation they had envisioned they would have to give of themselves and work together, hoping to reap future prosperity."
The daughter of Heather and James Rhodes said she plans to attend a four-year college and grad school and major in either law, history, English or political science.
Quattlebaum explored the foundational principles of service, leadership, dependability and patriotism, saying that without those, the nation would fall.
"We have our freedoms because of the patriotism of those who came before us," Quattlebaum said. "The necessities of our nation have not changed from what they were at its founding. Patriotism was a necessity then and continues to be a necessity to this day."
The daughter of Sara and Curt Quattlebaum said she plans to pursue a bachelor's degree in nursing and a master's degree to become a nurse practitioner, specializing in pediatric oncology.
Hannah Covey, a senior at Penn-Griffin School for the Arts with dual enrollment at GTCC Jamestown, also wants to continue her education to become a nurse anesthetist. Covey is the daughter of Jessica and Keith Covey.
"I believe that a good citizen is someone who strives to help others and dedicates their life to doing good in the world," Covey said. "My whole essay is about my 13 years in Girl Scouts and how we've always worked with food-disparaged people in the High Point community. It's just opened my eyes to a lot of the struggles in High Point right now and what I can do to give back to my community."
Atkinson noted how good citizens and brave leaders were willing to leave their comfortable ways of life to serve their fellow Americans in hard times and during wars. The daughter of Catherine and Bruce Atkinson plans to attend Clemson University and major in elementary education. She also wants to obtain a graduate degree in Speech and Language Pathology or Occupational Therapy to serve children with developmental delays.
Majett, the daughter of Michelle Gonzalez, plans to attend either Campbell University or High Point University to major in pharmacy and pursue a doctorate in pharmacy with hopes of owning a pharmacy.
After hearing the students' essays, DAR President Gloria Halstead congratulated the winners.
"The essays were so inspirational," Halstead said. "They were indeed food for thought."
cingram@hpenews.com | 336-888-3534 | @HPEcinde