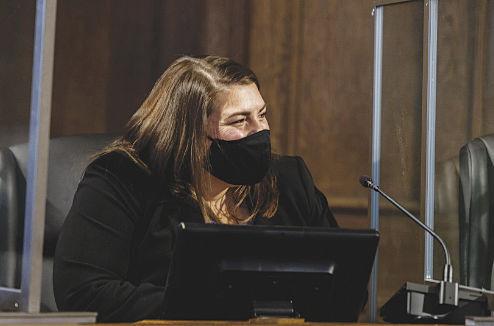 GUILFORD COUNTY — When Mary Beth Murphy was installed on the Guilford County Board of Commissioners Wednesday morning, women took a majority on the board for the first time.
Vice Chair Carlvena Foster of High Point said the 5-4 majority will make a difference in how the board operates.
"You give us the women majority on this board, so we know that business will be run a little bit different because we pay a lot of attention to detail and we form a different kind of bond," she said.
Foster told The High Point Enterprise she had not expected voters to usher in that majority.
"I think this is a milestone simply because of the challenges we're facing across our county now," Foster said. "I think the voters wanted change, based on campaign promises, and education seemed to have been the top one. They were really looking for someone to support the education of our children and the needs of the schools."
Murphy, a teacher in Guilford County Schools, surprised many by beating two-term incumbent Alan Branson by a razor-thin margin in the District 4 race.
Branson appealed his loss to local and state election officials, delaying Murphy's installation nearly two months beyond the Nov. 3 election.
Murphy said she was "grateful to have the opportunity to finally represent the people of District 4."
"I am honored to step into public service and to represent not only District 4 but all of Guilford County. Lots of people leaned in and offered their support," she said.
Carly Cooke, a newly elected board member representing District 5, told the Enterprise she found it exciting to see Guilford County elect a majority of women to the county board.
"Women often make thoughtful leaders, and we need more of that in government at every level," Cooke said. "I think this new board will be able to work together to make progress for Guilford County on a number of important issues — partnering with the board of education to support our schools, collaborating with stakeholders to support economic growth in our community and create jobs, and most urgently, bringing our community together with a coordinated plan to keep Guilford County people safe as we continue to make our way through this pandemic."
Foster said COVID-19 was one of the biggest challenges the county faced through 2020.
"I think families felt that tremendously," Foster said. "When we looked at the issues as commissioners, we looked at them more from a business standpoint in dollars and cents. I think that now, the board with the women majority and Democratic majority will really be looking at how we can impact lives a little more. Dollars and cents are important, but the well-being and success of the citizens in our county has to be a priority. We have to be able to meet the needs of our people."
Board members Carolyn Q. Coleman, Kay Cashion, Jason Conrad and Alan Perdue did not attend the swearing-in ceremony. The board's next work session is set for Thursday, Jan. 7, at 3:30 p.m. with its regular meeting to follow at 5:30 p.m.
cingram@hpenews.com | 336-888-3534 | @HPEcinde