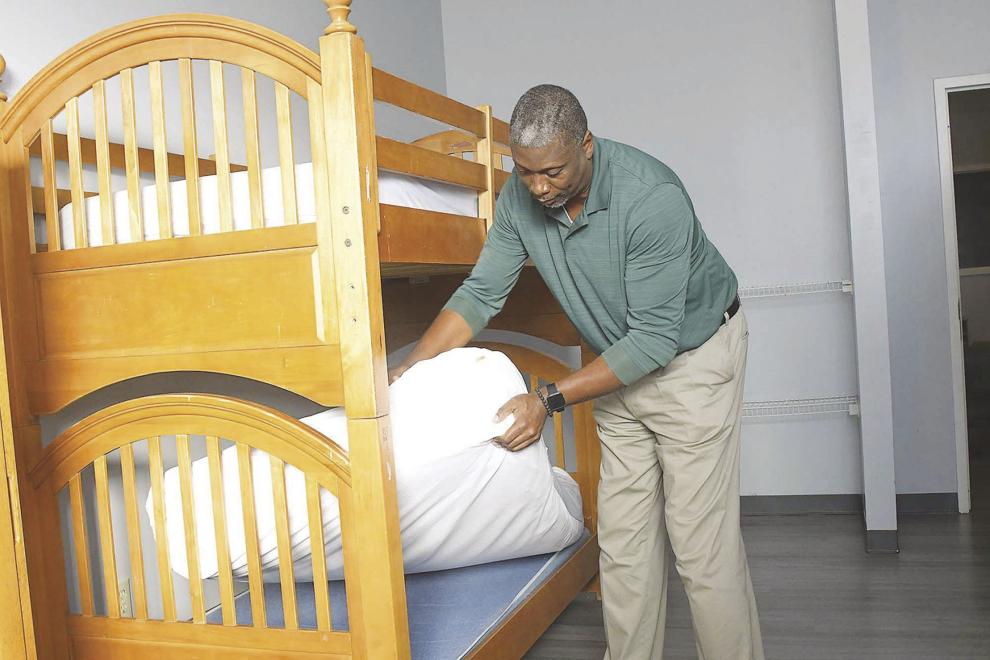 HIGH POINT — With the coronavirus pandemic still limiting the number of beds they can make available, the three primary homeless shelter providers in High Point are asking the city for help this winter.
A City Council committee has recommended awarding a total of $162,850 in federal COVID relief funds to be split between Open Door Ministries, the Salvation Army and West End Ministries.
The full council will vote on the assistance Monday, which would enable the agencies to provide emergency winter sheltering while maintaining social distancing requirements and other mandates related to the pandemic.
"It's been quite a challenge to respond appropriately and safely with COVID," said Brian Hahne, executive director of Partners Ending Homelessness. "Most of our shelters are still operating at or below 50% capacity. However, we still have folks on our coldest nights that we need to be prepared to serve."
Last winter, Open Door Ministries, which serves homeless men, had a partnership with St. Mary's Episcopal Church to house its transitional housing clients there instead of its shelter on N. Centennial Street to keep it from getting too crowded.
This arrangement is not available again because Open Door Ministries does not have adequate staff to manage the church location this time, said Executive Director Ryan Ross.
However, he said a similar COVID safety measure is available for the agency at a different location.
Open Door Ministries is requesting $60,398 to book several rooms at a local extended-stay hotel to house about 20 of its transitional housing clients through March.
Hotel staff would handle meals, cleaning and other day-to-day operations, which would save Open Door Ministries from having to provide these services.
The agency would devote one staffer to work with clients at the hotel on their individual needs.
"It would give them a little more freedom and start transitioning them out into housing," said Ross.
It would also free up 35 beds at the shelter to accommodate homeless men directly off the street.
"That way, we can help them and make sure everybody's as safe as possible," he said. "The definition of cold weather for us is when it gets below 45 degrees. The last thing we want is guys sleeping on the street if we can get them off the street and help them out."
The biggest challenge for West End Ministries' winter shelter for single women isn't a lack of space; it's finding the money to staff it, said Executive Director Brad Bowers.
Its Leslie's House shelter can normally accommodate 22 women, but its capacity has been limited to 14 during the pandemic.
There's room for an additional 15 beds in another building on its campus to serve as its winter shelter.
"The goal, as with residents of Leslie's House, is to help women who stay at the winter shelter to overcome obstacles and to move into permanent housing," said Bowers. "At West End, we view the winter shelter as a vitally important and necessary extension of Leslie's' House."
The cost to implement the winter shelter is substantial and stretches the ministry's already-tight budget, he added.
The agency is asking for $50,472 from the city to provide round-the-clock staffing and a 40-hour-per-week case manager/coordinator. It would also cover utility costs and extra cleaning that's required.
"We know how to take care of the homeless," said Bowers. "We can do the work. We just need the funding."
Antoine Dalton, director of social services for the Salvation Army Center of Hope Family Shelter in High Point, said staffing is also the main need for his agency that the money would address.
Devoting part of the shelter to winter overflow space to serve individuals for four months would cost $51,980, he said.
Because they serve families with children, their caseworkers and other staff work closely with schools and social services agencies.
This poses a challenge in finding enough manpower to monitor the individuals in the winter shelter, Dalton said.
The money would allow the Salvation Army to bring on additional staff and provide better pay and more hours in order to operate the winter shelter, he said.
pkimbrough@hpenews.com | 336-888-3531