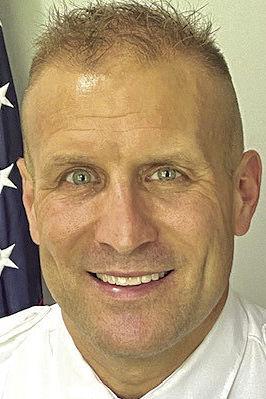 HIGH POINT — The city announced Wednesday that Travis Stroud has been named chief of police by interim City Manager Randy McCaslin.
Stroud, a 25-year veteran of the High Point Police Department who has served as interim chief since August 2020, was chosen from among 19 applicants, McCaslin said.
Stroud was the unanimous choice of a four-person panel that interviewed candidates. McCaslin said he stood out for his work taking on the interim role amid major challenges like the coronavirus pandemic and a national climate of controversy around law enforcement.
"Travis was certainly our choice, based on the results of that interview, plus the fact that, since August, he's just done a tremendous job," McCaslin said. "The City Council supported him, his staff at the (police department) supported him, and we've heard from so many in the community on his behalf."
Stroud is the third straight chief to be promoted from within to the top job, following Marty Sumner and Ken Shultz.
Previously, he served as an assistant chief, a patrol commander, and in various other roles in the department, including commander of the Vice and Narcotics Unit and field-training team commander.
Councilman Chris Williams praised Stroud's experience with the police department's longtime deterrence strategy focused on habitual violent offenders.
"I was really glad that Travis was offered and accepted the position because, to me, what was most important was that whoever was given the job knows High Point and knows what was successful in reducing crime in the city," he said. "For me personally, it has to be someone who understands how unique High Point is — the partnerships, the collaboration and training in proper de-escalation, proper protocols to handle (traffic) stops. I want (officers) safe, but it's important that they get to know their community and connect with their community."
Williams said he believes Stroud excels at the community aspect of policing and has kept the department engaged in several initiatives throughout the pandemic, working with outside groups like the High Point Community Against Violence and the Guilford County Family Justice Center, which targets issues like domestic violence.
"There's always a learning curve to the new police chief that we won't have with Travis Stroud, who was born and raised in High Point," said Councilman Victor Jones, who chairs the council's Public Safety Committee. "I think the community likes Travis Stroud. He's respected. He's kind to people, and especially in today's political climate, that's important."
A graduate of Andrews High School and Appalachian State University, Stroud said he never considered seeking the top job until Shultz retired last year and he saw the importance of continuity.
"I felt like I owed it to our officers here. They've done such a wonderful job," he said. "I also feel like I owe this city. They gave me a chance when I was just a dumb kid — 23, 24 years old. I have no doubt this will be the toughest assignment of my career, but I cannot imagine working anywhere else. I am committed to these officers and this city."
The city ended 2020 with crime down double digits and the trend has continued so far this year, with violent crime down 19% and property crime down 9%.
"The only thing we're up on is homicides, with four. We had two at this time last year," Stroud said, adding that arrests have been made in all four killings.
He said he plans to continue all of the department's enforcement efforts and is planning a new initiative targeting first-time firearm offenders.
He also plans to launch a new "community collaboration board" that he envisions as "a group of citizens who are pro-High Point we can bring in and help us identify community issues or crime issues and say, 'The Police Department needs to do something about this.' "
336-888-3531